Biography
Marie Bradby -- winner of the IRA Award, a Golden Kite Honor, a Nest Literary Classic, and ALA Notable Books awards -- is a children's author who loves historical and cultural fiction. Prior to writing for children, Ms. Bradby was a reporter for the Providence Journal, the Lexington Herald and the Courier-Journal.
Happy Summer!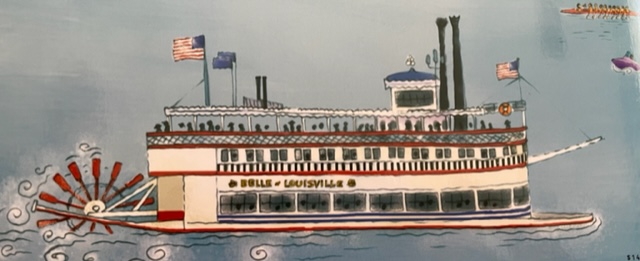 Hope you are having a splashing good summer! This is a great time to see boats going up and down the rivers. At 108 years old, The Belle of Louisville is one of the oldest steamboats in the world, and still operates on the Ohio River. Come along for a lively ride on this world treasure. Hurry! The captain and crew are busy getting the old engines fired up. Steam PUFFS! Machines WHIRR! Gears CLACK! Here we go! All Aboard! The Belle of Louisville!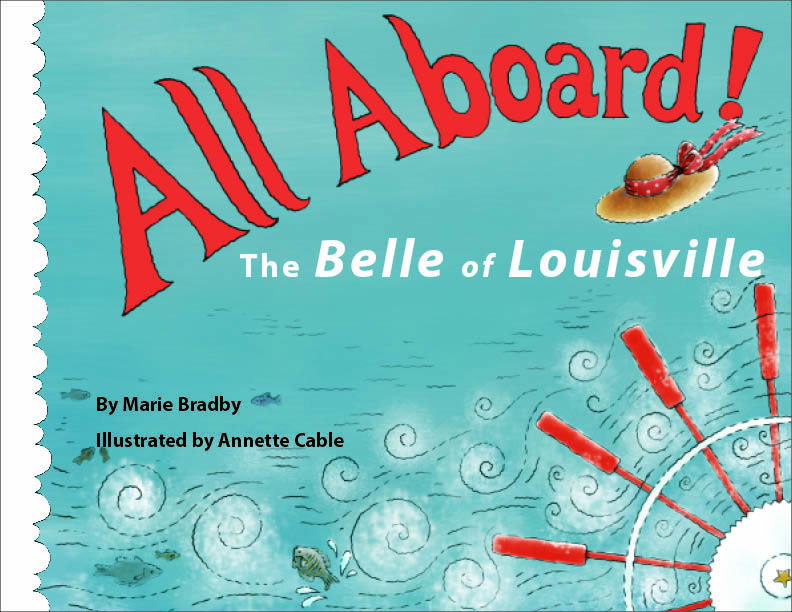 Ahoy! Marie teamed up with popular illustrator Annette Cable to create All Aboard! The Belle of Louisville, in honor of the Belle, who turned 100, October, 2014, and is the oldest, operating, Mississippi-Rive-style steamboat in the world!

Hurry! The captain and crew are busy getting the Belle's old engines going. Steam PUFFS! Machines WHIRR! Gears CLICK! Here we go!

A diverse group of kids and their families drop what they are doing, and rush to board this historic steamboat. Annette's playful illustrations capture the exuberance and humor of the story, as the crew and passengers travel up the Ohio River through a lush setting of boats and wildlife. A lighthearted, but factual text and whimsical illustrations make this picture book perfect for children who are always on the go and want to know how things work.

Come along for an adventurous ride on the Belle, built in 1914 at the height of the Industrial Age—a time when the fastest roads were rivers, and steamboats were the rulers of transportation.

Educators, check out the teacher's guide for the book by clicking on the link below.
"I loved to read as a child and it's still one of my favorite things to do. I think I became a writer because I enjoyed reading so much—books, magazines, newspapers, comic books, cereal boxes. Also, I come from a family of storytellers. Relatives would gather on Sunday afternoons on our front porch, and sit around and drink lemonade, eat pound cake, and tell (often humorous) stories about their comings and goings, past and present. In addition, my parents loved arts and culture. Saturday afternoons we'd go to museums, art galleries, concerts, ballets, etc. At age six, I was mesmerized the first time I saw Renoir's painting, "A Girl with a Watering Can" at the National Gallery of Art. It was as if the painting could speak to me. I remember standing there waving to this painted girl, and saying, 'Hello.' As you can see, I had quite an imagination."
Award-winning freelance journalist and children's author, Marie Bradby has written numerous distinguished books for children, including the Golden Kite Honor Award winner, Momma, Where Are You From?, the highly acclaimed novel Some Friend, and More Than Anything Else, winner of the International Reading Association Award, a Teacher's Choice Award, and an American Library Association Notable Book. It is available in foreign editions, including Mandarin, Japanese, and Spanish.

She grew up in the suburbs on the East Coast, the sixth of seven children, attended public schools, was a Girl Scout, played soccer, was a majorette, and played the clarinet and oboe through college. After graduation from Hampton University, she worked as a journalist for newspapers and magazines.

She became interested in writing children's literature when she and her husband had their son. She began the serious study of children's literature by reading, attending writing workshops, writing, and joining professional writers' organizations and a critique group.

In addition to writing for children, Ms. Bradby is a journalist, having been a staff writer for the Providence (R.I.) Journal, the Courier-Journal (Louisville), and National Geographic Magazine. She was a contributing writer for Black Engineer Magazine, as well as a regular contributor to Louisville Magazine. She writes regularly for Today's Woman magazine.

She traveled around the world on the MV Explorer as the Communications Coordinator and PR Director for Semester at Sea, the shipboard study aboard program for college students. On that amazing trip, she visited twelve different countries while circumnavigating the globe.
Have you ever wondered: What it would be like to live on a family farm today? What it would be like if you didn't know how to read? Where your parents are from? When your Dad is going to return home from a trip? I have wondered these things and many more, and turned them into children's books.

But my books don't start with an idea, they always start with a character and the character's voice that just show up in my head. I write the story that the character tells me.

Here's a list of my books and some of the awards that they have won:

"MORE THAN ANYTHING ELSE," (Richard Jackson/Orchard Books, 1995) Illus. Chris Soentpiet. ALA, IRA Children's Book Award, PBS story time Feature, Teacher's Choice, starred review School Library Journal, Best Book of 1995 by Book Links, Chicago Tribune, Los Angeles Times.
ISBN -- 0-531-0944-2 $14.95

"THE LONGEST WAIT," (Orchard Books, 1998) Illus. Peter Catalanotto. Kansas State Reading Circle Recommended List.
ISBN -- 0-531-06871-4 $15.95

"MOMMA, WHERE ARE YOU FROM?" (Orchard Books, 2002) Illus. Chris Soentpiet. Golden Kite Honor Award, Nest Literary Classic.
ISBN -- 0-531-30105-2 $16.95

"ONCE UPON A FARM," (Orchard Books/Scholastic, 2002) Illus. Ted Rand. "Best Book of 2002" by the Los Angeles Times, Kentucky Public Librarians "Choice Award" Nominee, 2003.
ISBN -- 0-439-31766-5 $16.95

"SOME FRIEND," (Richard Jackson/Atheneum, 2004) West Virginia Children's Book Award Master List, 2006-2007.
ISBN -- 10: 1-4169-3452-9 (pbk) $5.99
ALL ABOARD! THE BELLE OF LOUISVILLE (Butler Books) Illus. Annette Cable. Kentucky National Book Festival Selection.
ISBN -- 978-1-935497-79-0 $14.95.
Stories are all around you. They're in your head, in the grass, in the leftovers you had three days ago that no one has gotten around to tossing in the garbage. When I write, I try to add details that include all of the five senses: sight, hearing, taste, feel, and touch.

Here are some writing prompts:

There is something in the refrigerator that's been there for several days. What is it and why is it there?

Next, write about something important that you forgot to do.

Next, write about a friend who has disappeared.

Now, combine these writing prompts and try to make them one story. Have fun!

How to Contact Me or Buy My Books
If you're interested in buying my books, you can purchase them at any bookstore or online at places such as Book Sense or Amazon.

Teachers, I visit schools and you can e-mail me.